Directory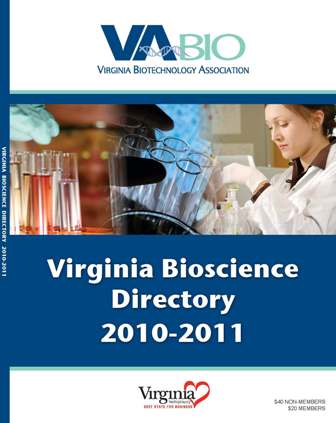 The 2010-2011 Virginia Bioscience Directory is now available.
The directory features hundreds of contacts and descriptions for the leaders of the Virginia Bioscience community.
Primary contacts of member organizations have complimentary access to the directory, using the information that was previously sent via email.  If you need this information sent to you again, click here.
Each additional directory costs $20 for members and $40 for non-members and may be purchased in either electronic or printed format.
Online Member Database:  The online database is available 24/7 to VaBio members only.  To view a list of our current member companies, click here.
Members view the online member database now.
By clicking this link you will leave VABIO.org. Use your browser's back button to return.
Internships at Virginia bioscience organizations: The following link will take you to the Virginia Bio Foundation page with details on which organizations have indicated that they are open to internship possibilities. Click here for the list of Virginia bioscience firms that have expressed interest in supporting summer interns:
http://www.vabiofoundation.org/internships-at-virginia-bioscience-firms/